Small ship cruising in Croatia aboard the Princess Eleganza
by Cathy Bartrop, travel writer and vlogger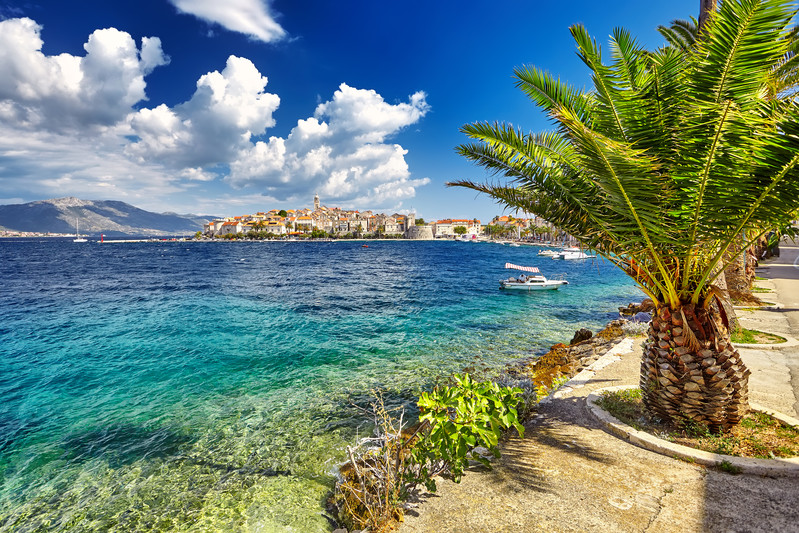 Carrying just 36 passengers and weighing in under 500 tonnes, the Princess Eleganza is tiny, more yacht than shiplike – its a completely different experience to what could be described as a 'normal' cruise.
First and foremost, the ship is always in harbour at night – so there's no engine noise, no movement so you are pretty much guaranteed a good night's sleep. The cruising happens in the mornings with the engines generally starting up sometime between 7 and 8am (no need for wake up calls!). Breakfast is served between 7.30 and 9am and then the general pattern is to find your spot up on the sun deck, get stuck in to a good book and occasionally look up to see how the coastal scenery is changing. On the sun deck the engine noise is at a minimum, there's a lovely cooling breeze and its a delightful, restful place to while away a good chunk of the day. I did have a concern when I counted only 18 sun loungers for 36 guests but it seems, the older you are, the less you like being in the sun. The majority plumped for an armchair under the shade of the awning.
Some time after lunch we'd arrive in the next port of call – cruise director Thomas gave us the daily briefing and provided local maps so we could either choose to join the walking tour with a local guide (usually 60-90 mins) or head off independently . Most usually chose the guided option which proved a great way to get your bearings and soak up at least some of the (often complicated) history. Staying overnight meant that we never felt rushed and we got to enjoy the peace of the beautiful small towns and harbours, once the day trippers had gone.
On a couple of days we ventured further afield by coach – from Sibenik for instance the breathtakingly beautiful Krka National Park is only a short drive away and from Zadar there was a longer drive for lunch and liqueur tasting at a local farm before experiencing a river cruise along Zrmanja Gorge. Likewise, in some of the busier ports like Dubrovnik and Hvar, it proved much nicer to berth in quieter harbours and drive 15-30 minutes to see the sights. Once docked, passengers are free to come and go as they please whether for a night out on the tiles or an early morning visit to the local market. Just don't forget to mark yourself 'In or Out' on the the board by the gangway or they may just leave without you.
Another key difference on this cruise is that roughly 50% of the evening meals were taken independently ashore. The food on board was excellent – set menus freshly prepared with a great deal of skill and care by our hardworking chef Tea and her assistant Nataly but it's always nice to experience local restaurants and, apart from anything else, eating every night as a group would have been too much.
That said, another advantage of such a small group is that it makes for a very social atmosphere – without being in each other's pockets, over the 11 days everyone mingled with ease – open seating for all meals meant conversations with just about everyone and, despite (or maybe because of) an age range of between 56 and 86, a lot of fun, laughter and interesting life stories were shared.
Princess Eleganza is not a luxury ship but it's certainly very comfortable and well equipped. The cabins are all slightly different in style and size – basically the best being those on the upper decks and furthest from the engine. My cabin (26) became a running joke as it was literally on top of the engine – definitely no lie-ins for me but, to be honest, I was always up anyway before they started up in the mornings and I barely spent any time in there during the day.
The free wifi worked well everywhere, even when sailing and the 24 hour tea and coffee station was well used. Apart from the sun deck the main gathering area is the restaurant which caters for meals both inside and out. So long as the weather is good, eating outside would always be the preference although the engine noise is quite loud in that area whilst cruising. Croatian wines and beers were included during meals and, at other times, restaurant manager Ivan and his comedy sidekick Filip were always on hand to serve drinks from the tiny bar. They seemed particularly keen to ply guests with various local Schnaps like brews. The crew generally were just delightful and really added to the happy atmosphere on board.
My favourite feature of the ship was the opportunity for swim stops. As you cruise, the Adriatic looks so blue and inviting there's a constant urge to want to dive in. Over the 11 days we managed 5 swim stops (the record is 8) – always subject to wave and weather conditions of course but it was just a joy whenever the cruise director and captain decided the conditions were right to weigh anchor so those that wanted to swim could jump in off the rear pontoon. In early June the water temperature was a very pleasant 22c.
As for the itinerary – a cruise along the Adriatic coastline is just a joy. I've yet to meet anyone who doesn't rave about Croatia. Its easy to get blasé about it but the coastal scenery is just lovely and completely unspoilt. That is apparently down to former Yugoslavia President Tito who decreed that in the more rural parts and islands there should be no buildings within 100 metres of the coastline – what a wise decision, upheld by the current Croatian government and now paying dividends for the many tourists flocking to this beautiful part of Europe.
Of course its also a part of Europe that was torn apart in the 90s during the Bosnian war and, during our excursions, recent history was certainly not overlooked. History here is complex with many of the places you visit dating back to medieval times. Every day there is another historic, impossibly picturesque port to explore – from the larger, better known tourist spots of Dubrovnik, Split, Zadar and Opatija to tiny peaceful spots like Korcula, Starigrad and Rab.
This article is adapted from the original post on: