Patagonian Odyssey – an expedition aboard the MS Island Sky
by Cathy Bartrop, travel writer and vlogger
How to describe the journey of a lifetime? Its rare indeed for me to have the opportunity to do a three week trip and its always a thrill to explore somewhere completely different – Patagonia must surely be high on many people's travel bucket list so I was delighted to be asked by Noble Caledonia to film their Patagonian Odyssey cruise on board Island Sky. This was also my first trip to South America so it promised to be an eye opener in many different ways.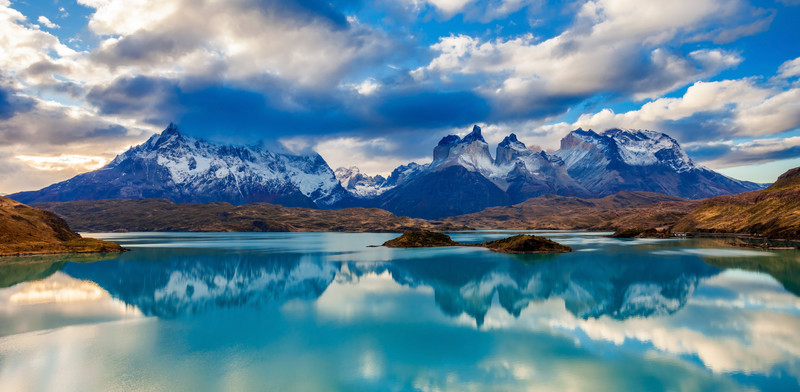 Our home for the major portion of the trip was the 118 passenger Island Sky. By anyone's standards, that's a tiny ship! But to cruise this part of the world she needs to be – larger ships simply can not navigate the labyrinth of islands, peninsulas and narrow channel that make up the lace doily that is the Patagonian Fjords. We would follow in the wake of the early 19th century explorers on board HMS Beagle accompanied by the young Charles Darwin as he shaped his revolutionary ideas about natural history and geology. Not much has changed in the area since that time and, even for seasoned sailors in modern ships, the region remains a nautical challenge. On this cruise our Captain, Jose Fonseca was supported throughout by two local pilots.
She may be small but Island Sky is plenty big enough to offer all the facilities you could want for cruising in considerable style. There are 59 surprisingly spacious and very comfortable cabins, a bar, lounge, library, dining both in the restaurant on deck 2 as well as outside on the Lido Deck (weather permitting) and plenty of open deck space.The latter is crucial as much of our time was spent outside (no matter what the weather) observing the passing scenery and wildlife spotting. Expedition cruising is no 'holiday' – if we weren't on the lookout for whales, dolphins, sealions and all manner of birdlife, we were donning our layers and wet gear and heading out on the ships fleet of 10 zodiacs to explore glaciers and get really close up to the shoreline. There is always something happening, even when nothing in particular is planned. Flexibility is key – the itinerary is fluid – at least six days of the itinerary were simply explained as 'continued exploration of the fjords'. That's because things can and often do change depending on the weather and the wildlife.
Our Expedition Leader Hannah, who has done this route over a dozen times told me that no two cruises are ever the same. How can they be – the wildlife here have a huge playground to move around in, so they can pop up literally anywhere. Over our two weeks at sea, every day there would be at least one or two significant wildlife sightings where the ship would slow down or even stop so everyone could dash out on deck to take a look. We were all on permanent watch – there was a certain kudos to be had from being the first to spot something and, after all, who would ever want to miss out on the chance to see blue whales or dolphins surfacing right alongside the ship?

Led by our trusty expedition team, it was one adventure after another – from landing at Cape Horn, to being out on the zodiacs collecting breakaway glacier ice (broken up for G&T's in the bar that evening!), eyeballing sealions, marvelling at the speed of Steamer Ducks skimming across glassy water, storming through the tightest of narrows on a slack tide and witnessing the jaw dropping beauty of the mountains in Torre del Paine National Park.Back on board, our adventures were backed up by lectures and recaps delivered by the Expedition team, each an expert in their different fields – filling in the details, providing context and, in a lighthearted and engaging way, really educating us.
There was plenty of knowledge to be shared among the passengers too – mostly retied professionals and many with nautical backgrounds either as sailors or in the forces, there were historians, marine mammal enthusiasts and a high proportion of bird lovers. You can generally guage their level of seriousness by the strength of their binoculars or length of camera zoom lens. It was at times like being with the paparazzi – over lunch out one day there was suddenly a mass exodus from the tables as word spread of a sighting up a tree outside. The star attraction, it turned out, was a red headed Magellanic Woodpecker.
Of course you don't have to be any kind of expert to enjoy such a trip – I am certainly not and for me, the experience alone was more than enough – but its funny how other people's passion can rub off. I'll never be a twitcher but I now find myself taking a keener interest if I spot a bird that's not familiar.This type of trip can really have a lasting impact – Patagonia is quite unlike anywhere else I've ever been. It's vast, often dramatic skies, the astonishing landscapes, the lack of people, the mesmerising beauty of ever changing weather, the excitement of witnessing rare creatures in the wild – and we only saw a relatively small section of it. It has left me craving more adventure and for sure, to explore beyond the coastline.
View all South America Cruises here
This article is adapted from the original post on: