Brave New World
by Mike Deegan, Head of Fleet Operations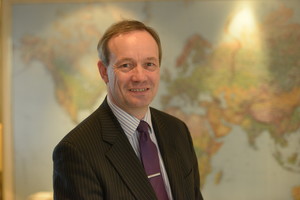 There comes a salient point in every person's career when they realise the bright young things climbing the ladder behind them are every bit as qualified and knowledgeable as they are and moreover can used the new-fangled gadgets necessary to get the job done in a digital age. In my case this occurred several years ago – not least when I noticed that all of the first 7 ships I served on at the outset of the seagoing part of my career were consigned to the scrapyard many years previously! Dinosaur me? You bet! In my present role I'm the "do-you-think-he-saw-us!"
Let's talk about chart corrections : not a line guaranteed to break the ice at parties! However I still recall that with the innocence of youth I spent many happy hours (well aright then – many hours) correcting charts manually. These days I discuss the latest corrections with our own navigators and this conversation usually revolves around download times and availability. So I grant you better use of a young officer's time – I suppose if I'm honest many was the time I deplored being crouched over a dimly lit chart table with what looked like tracing paper in one hand and a weather eye on the clock to see when the meal relief would be up!
We still have ships where a full paper chart folio is maintained. I have them in the last 12 months and I was quietly pleased with the pride with which the young 2nd Officers in each took me through their folio – it was tangible! The young Greek 2nd Officer in one of our sail assisted motor yachts positively beamed as he took me through his latest corrections to the paper charts as part of the audit. He had been trained in a tanker company and I'll warrant had rarely used paper charts outside the classroom. Similarly his Croatian colleague in Serenissima (of which more later) was so justly proud of his work he smiled as I audited it : not the usual demeanour of an officer undergoing a survey or audit!
However I do have a slight concern : it is officers of this age profile that are more used to gazing into the glass screen of some apparatus or other than through the square windows in front of them and it is what is out there is going to bite them on the bum at some point and spoil the Master's whole morning! When auditing a ship some years ago I noticed the required sound signals had not commenced as the ship entered fog. After an appropriate period I went up to the bridge to enquire as to the reason and discovered the officer of the watch had not called the Master as required or even noticed the restricted visibility as he was fully engrossed in Facebook on his laptop on the chart table! I shall draw a discrete veil over the subsequent disciplinary process! Yes in my humble opinion the mark 1 eyeball is still the most important piece of kit in any wheelhouse! I often ask Officers of the Watch if they are on watch : on receiving an answer in the affirmative, I then tell them to watch – through the square windows! I'm entitled to be grumpy now I'm old!
At Noble Caledonia we charter a fleet of over 30 cruise vessels : granted many of them ply the rivers of the world (where I have never seen a paper chart! That said those sailing the Irrawaddy, Brahmaputra and Nile rely heavily on extensive local knowledge – indeed the Brahmaputra bed changes so frequently the regional Government do not chart it – preferring instead to require traffic to follow their survey boat when trading in the higher reaches) but the others that ply the high seas are where I feel truly at home. We trade in some of the remotest places on the planet which can have it's challenges in many ways – whether that is due to out of date or non-existent hydrographic surveys, or whether we suddenly need to extract a medical casualty from the Antarctic Peninsula (which happened recently), or a need to consider how to improve garbage management to reduce volumes between opportunities to offload, no two days are ever the same.
To place passengers ashore in remote locations, often onto a beach or river bank, we make extensive use of RIBs – we use Zodiacs. Every day, somewhere in the world in normal times, passengers of ours are being landed into some remote location or other. We could be landing passengers by Zodiac into remote parts of Costa Rica, New Zealand, the Antarctic Peninsula and in the highest reaches of the Brahmaputra River in Assam (see previous notes on navigation hereabouts!). Zodiacs increase our flexibility immeasurably and the resultant (eg) jungle walk accompanied by one or more of the expedition team makes for a memorable experience. Here too modern technology helps : we require that all pre-operating briefs, including completion of the vital pre-departure checklists, should be conducted in the wheelhouse, thus under the Voyage Data Recorder voice recorders. Thus the fact the checklists were completed contemporaneously is in no doubt – it is part of our VDR data!
In fact my day job occasionally requires me to investigate incidents and near misses, not just involving RIBs but all manner. Here advances in technology have made the investigator's lot much easier : to take a VDR or ECDIS download to recreate navigational or technical events make life much easier and the resultant report (which we conduct not for the apportionment of blame but for wider learning) is commensurately more accurate.
In our fleet, our oldest ship is SS Misr on the River Nile : a former steam yacht of King Ferouk, she is 102 years old this year and still has the original steam engine from 1918. There is precious little automation on board (perhaps the sum total being the crew's own smart phones!) but the one aspect of her operation she does have in common with her next oldest fleetmate (the previously referred to Serenissima) is chain telegraphs.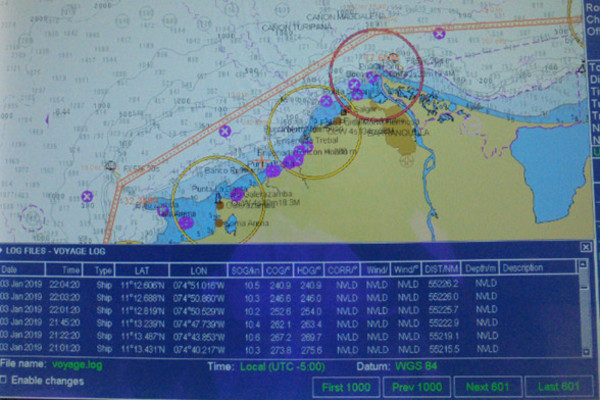 Some years ago whilst preparing a seasonal ship for service, I was stopped in my tracks by a surveyor suggesting he would have difficulty awarding the ship its annual Passenger Ship Safety Certificate (PSSC) as it was impossible to provide an interface between the chain telegraphs in use on board and the VDR. After my initial shock I realised he had grown up in the digital age and had never seen such apparatus – despite ships having operated perfectly safely for 150 years with them. In fact the first 4 ships I sailed on had chain telegraphs (yes they were all steam ships). The ship I was dealing with as a shore-based manager was a motor ship but had no direct control from the bridge over the engines. In the end we agreed to differ and we both sought the advice of the surveyor's line manager (who just happened to have been an ex-Captain of mine from tanker days) who authorised the PSSC award – provided we could prove the chain telegraph system had been serviced recently.
In fact therein lies the challenge in managing ships with chain telegraphs fitted (I can think of 3 still in service around the UK coast plus our Nile river ship, plus another one we operate on the Brahmaputra River in Assam, India, but doubtless there are many more) : the availability of contractors who are able to maintain such systems has diminished almost to nil in the 21st century : Chadburns were the all-seeing panacea of the chain telegraph world and their technician would attend annually to ensure the links had not stretched twixt bridge and manoeuvring platform to the point where "dead slow ahead" rung on up top translated as "half astern" down below! Not a good situation!
An estuarial Ferry Captain once told me he missed the chain telegraphs when they were replaced in the fleet with direct bridge control of the new engines : this coincided with the replacement of the original Crossley engines with newer, supportable, Wartsilas. He was of the opinion a good Chief Engineer down below could have the engines move from ahead to astern propulsion quicker than his new-fangled direct control could when the famous "double ring astern" was rung – "only you can save me now Chief!" – not only that : on the regular route they plied and with most crew staying with the fleet for decades, he reckoned an experienced Chief Engineer could anticipate his next move and save his skin when needed!
Serenissima is an interesting study in old meets new : in 2013 she was extensively rebuilt to ensure she complied with the latest SOLAS and build regulations. At the same time direct control from the bridge of the engine was installed for the first time but the chain telegraph system was retained for show although it is no longer in use. Passengers on bridge visits love to see the highly polished brass telegraph in the wheelhouse then look for the repeater on what used to be the manoeuvring platform down below. Also for the first time a data logger was installed and newer navigational and communication equipment. This was a major project in a ship popular with passengers and where new technology needed to be embraced without destroying the ship's character or heritage – these were important to her legions of fans amongst the passengers. The story of that rebuild is probably a story for another time but if a picture tells a thousand words, the bridge alone is worth a look to see new equipment alongside more traditional fittings. The dark coloured console immediately in front of the windows was installed in 2013 to hold the new radar screens, AIS, ECDIS and Auto-Pilot, the predecessors of which were all fitted into stand-alone units. (Is it me or do all radar screens take forever to move between day and night??? The sailors amongst you – answers to me on a post card please!)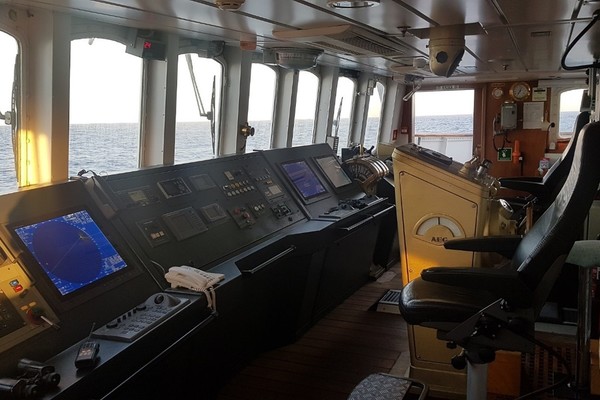 What a study in ancient and modern : the afore-mentioned chain telegraph is just beyond the console (maintained purely for heritage value now but never used). The AEG steering console and sound-powered telephone are in stark contrast to the bulkhead-mounted SART and modern navigation fit. Just out of sight behind the chair (don't get me started on whether there should be chairs on bridges! You can just see a second one, designated as the Captain's chair, beyond the helmsman's position) is the handwheel which closes the watertight doors! A curious mix of old and new but in an installation which is still at sea, world-wide 340 days per year.
The engine itself in this grand old lady is the original 5 x cylinder, opposing piston, B&W plant which is beautifully maintained (in fact I am often heard to remark that Serenissima doesn't carry a Chief Engineer – it has a Curator!) and the technical managers have learned to corner the market in B&W spares : here we differ from modern "just in time" logistic supply. The remote trading pattern of this ship (indeed all our ships) and long lead times required to revers-engineer spares means we have to carry (almost) 100% stocks of critical spares with us – with another par stock in a store ashore. In this area, as well as electronically, it is often difficult, nay impossible, to get a technician aboard as we are so far off the beaten track. Modern standards which rely on "just in time" supply and a shoreside technician attending just cannot apply to expedition fleets.
So as I said at the outset : am I a Dinosaur? You bet. However do I truly believe the vast progress in electronic technology afloat has made for a safer industry – absolutely. However I still think there is a place amongst all the wizardry for old diehards like me : we can still box that compass, still take sights with a sextant and still "feel" that wind / tide / set and, oh yes, the nights really were darker and the seas really were rougher in the '70s!