A Tribute to George Hart
It is with immense sadness that we advise of the death of George Hart who sadly passed away on 15 February. George was one of our most popular Guest Speakers and will be very fondly remembered by us all and greatly missed.
George was of course most well known as an exceptional Egyptologist and had a special talent of bringing his subject to life. George travelled extensively with us over many years accompanying cruises along the Nile each year. George also joined us for many of our voyages in the Mediterranean and was integral in the planning of some of our more unique journeys including our cruises which were themed around the travels of Byron and Lear.
Having made so many friendships with his colleagues here at Noble Caledonia, we wanted to share some of their memories of and tributes to George.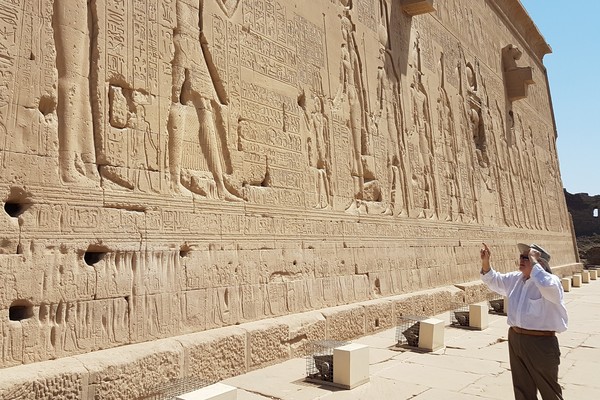 I was very saddened to read of the death of George Hart in the recent Travel Post. The tributes from his colleagues in Noble Caledonia rang so true to my mind. Words such as modest, gentlemanly, professional, composed, humorous, softly spoken, gentle, kind, knowledgeable, all sum up George perfectly. I speak not from sharing cruises with George. George has been a friend of mine since our university days.
George and I both read Classics at UCL. He was known at UCL as the 'eternal student'. On leaving school after A-levels, he went to work as a trainee accountant, but found it was not for him, with the result that he applied to UCL the following year to read Italian. Italian lasted for one term before he switched to his real love, Classics. In year two of our course we had to take on two specialist subjects. George managed in the next two years to work his way through every option until he found the right two! On graduating, George retried studying for accountancy again, but was drawn back the following year to being a student, this time on a Masters course in Egyptology at UCL. On completion, still the everlasting student, he registered to train as a teacher on a PGCE course. As luck would have it, when the time came to apply for a teaching post, lo and behold he found an advert for an Egyptologist in the education department of the British Museum! The rest is history.
I am devastated to have lost such a true and endearing friend, a friend who went on to become my daughter's godfather. I have had a lifelong ambition to visit Egypt and had booked places for my partner and I on the Noble Caledonia Nile cruise this coming November, specifically because George was to be the guest speaker. I am sure I shall enjoy the cruise, but it will be tinged with great sadness and fond memories.
Richard Priestley
I first met Gorgeous George in Lisbon when we were waiting to board the Serenissima and was struck immediately by his charming, self-deprecating style and lack of height. It was my pleasure to lecture alongside him on three trips through the Mediterranean, and I would say that they were my happiest ones. George was such a joy both personally and professionally, his modest manner belying his bottomless well of knowledge; we all learned so much from him at so many levels. I met George several times at Arts Society gatherings and found him just as delightful. There was always a throng of people around his desk, hoping to book him for a lecture or just to chat - or to adopt him and take him home. Those who knew him in hotter countries will always remember his regrettable taste in shirts, far too bright for the breakfast table. I remember him for his kindness, his sense of humour and gentle ways. Also that he had never, ever in his life owned a teddy bear. I was so shocked by this unprecedented level of deprivation that I sent him one. He was delighted, called her Flossie and complained that she sat on his desk, reading his emails. I do hope that bear brought him comfort as he became ill. I wish we all could have done, but he was such a private person that I suspect that only a very few knew how ill he was. His parting has left a George-shaped hole in our lives, a huge one despite his small stature.
Imogen Corrigan
I first met George Hart on my first trips with Noble Caledonia way back in 2013 on Corinthian along with wonderful Tour Managers Ros Phipps and Judith LaRocca. George was an excellent lecturer and had a great sense of humour and one evening I happened to call him Sir George, which stuck with myself, Ros and Judith. One evening George and I invited some guests to join us for dinner and when George arrived at the table I said 'Good evening Sir George, and two of the guests at the table stood up and bowed! I had to turn away and smile, but dear George kept his composure and carried on as though nothing had happened and from then on it was always Sir George. I last worked with him towards the end of last year on Misr and Serenissima and will always be proud to have known and worked with him and will cherish every moment. He was a very special person and will be greatly missed, certainly by me.
Peter Graham
I was privileged to have worked with George on a number of occasions including his very last tour with Noble, pre-pandemic, on the Misr in February 2020. George was a true gentleman in every sense of the word, much loved by everyone he came in contact with from our passengers to the onboard staff. All his colleagues and friends in Egypt are devastated by the news of his untimely death. George brought the Ancient World to life for everyone, but he also had a great but gentle sense of humour, and a kindness and approachability second to none.
Judith La Rocca
George wouldn't ever want to stand out in a crowd but often in his wonky positioned, well-worn hat, baggy jacket or waistcoat he did! But what is for sure he stood so tall amongst his fellow men. His knowledge and fascination of the interconnections between the Classical World and the Civilisation of the Pharaohs is legendary but, even more so, his gentleness, kindness and warm endearing smile. George was generous in all aspects. Questions after a lecture were always answered in-depth, his advice and help to many overflowed and he truly enhanced, over the years, countless​ Noble Caledonia Cruises. Much respected and much loved. George is a great loss to the world of Egyptology and, indeed, to Noble Caledonia. He will be so hugely missed by many. I shall always remember George with enormous affection and it was a privilege to have known him.
Chantal Cookson
Like so many others I was saddened to hear of the death of George Hart. I had the privilege of working with George on both Minerva and the Misr. Always such a joy to work with - so much so that whilst working with him on the Misr in February 2018 when I heard during that cruise that George had been invited to cover another cruise the following year, I asked the Field Staff Manager at Noble Caledonia if I could be the Tour Manager. She agreed and at the end of the cruise I was delighted to be able to tell the passengers that George and I had a date - 19th March 2019. George was an exceptional Egyptologist and Classical scholar who really brought his subject to life, never needing to refer to notes during his lectures. He lived his subject. I remember watching him wandering around the Cairo Museum and realising that he was totally immersed in his surroundings, back with the Pharaohs. He had a vast knowledge which he was happy to share with anyone. A true professional, he accompanied every excursion, supported the local guides and was never pompous. I spent many happy times with George on board the Misr where we would share a bottle of Omar Khyyam wine over dinner with passengers although we could never persuade him to dress up for the Egyptian Galabiya party, always maintaining his dignity. George will be sadly missed by so many and I wonder if he ever knew just how many people loved and admired him. A true gentleman, may he walk now with the Pharaohs.
Sheila Salmon
George worked with us for many years, he was associated with the Misr and our Egypt tours, but he also worked on many other trips around the Mediterranean. Anyone who encountered George will appreciate what a lovely man he was, generous in all aspects and with an ability to bring the Ancient world to life. George was a published academic but there was no stuffiness to him, his warmth meant that he will be much missed and fondly remembered.
Tim Cochrane
George – A true gentleman and an amazing lecturer, always with a warm smile and a very friendly nature. We all loved working with him on the river Nile aboard the Misr, where he felt so at home and on many trips in the Mediterranean especially the Greek Islands, where in his free time George would dine with the team ashore and make us all laugh with his stories and humour. A great loss to us all, he will be deeply missed.
Angie Carpenter
I have known George for many years. Always charming, always smiling and never a spare seat for his talks and lectures. He brought the fascinating Egyptian world to life. A kind and caring man. I will miss him. RIP lovely George.
Jane Mannerings
Egypt and the Misr will not be the same without George - I also worked with him many times in the Mediterranean and we were due to be working together for 'In the Footsteps of Byron' last summer - before the lockdown - which he was really looking forward to. I have memories of a couple of years ago with the Misr taking shelter in the reeds and a screaming sandstorm whirled around us and George pulled an extra lecture out of the hat, and we then tried to keep the dust out of our wine glasses - as did the passengers!
Judith Greasley
George was sunshine personified. He loved people, his work, his home & cats. Nothing was ever too much trouble for him and he endeared himself to so many. It was a privilege to know him.
Pat Cassim
George was a loyal friend, super Lecturer and colleague. He will be sorely missed by all who knew him.
Ros Phipps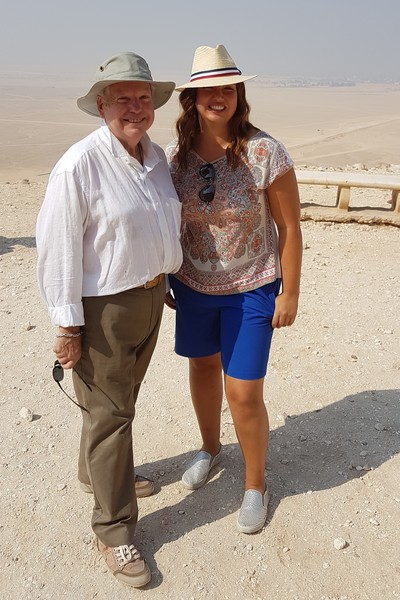 George with Guner El Dada, Noble Caledonia Operations Manager, on a recent tour in Egypt