The Oldie

We are delighted to be sponsoring the Oldie Literary Lunches which are held monthly at Simonson's-in-the-Strand in London as well as at Literary Festivals including Buxton, Holt, Rye and Chester. After a delicious three-course lunch with wine three authors will each address the audience for ten minutes about their latest book. Members of the Noble Caledonia office team will also be there to chat about our upcoming holidays and we hope to see you there. Details of the upcoming lunches are as follows:
Tuesday 14th February at Simonson's-in-the-Strand, London
John Julius Norwich on Four Princes
John Julius will discuss the colourful story of the four men who created our modern world: Henry VIII, Francis I of France, Charles V of Spain and Suleiman the Magnificent. All born within a single decade, they could hardly have been more different, but, together, they dominated the world stage.
Chris Mullin on Hinterland
We're delighted to welcome back the former campaigning MP, Chris Mullin to talk about his recollections of a diverse career which has encompassed an early career as a successful reporter including his work to free the Birmingham Six but also over twenty years as an MP at the heart of Blair's New Labour government.
Francis Beckett on Fascist in the Family
Francis Beckett did not discover why his father spent the war in prison and was constantly watched by the security services. Many years later, he uncovered that he was a high-ranking fascist. This fascinating and honest biography of John Beckett MP reveals the complicated life of a troubled man, whose mother was Jewish.
Please click here for further information and tickets.
Tuesday 14th March at Simonson's-in-the-Strand, London
Roy Hattersley on Catholics
The avowed atheist charts the persecution of British Catholics over five hundred years, taking a new perspective on their lives and achievements and explaining the unique qualities that ensured their survival.
Matthew Parris on Scorn
Wit and wickedness are the subject of Scorn, a compilation of the funniest, sharpest, rudest and most devastating insults in history. Whether carved by a Roman into a wall long ago or published on twitter for all the world to see, Scorn has it all.
Lord David Owen on Cabinet's Finest Hour
Cabinet's Finest Hour describes the intense drama that surrounded one of the most pivotal and yet little-known decisions of The Second World War: whether Britain should continue fighting after the occupation of France. The choice was by no means an obvious one, and the matter was decided not by Churchill alone, but collectively by the often-belittled cabinet.
Please click here for further information and tickets.
Tuesday 21st March at Kimberley Hall, Norfolk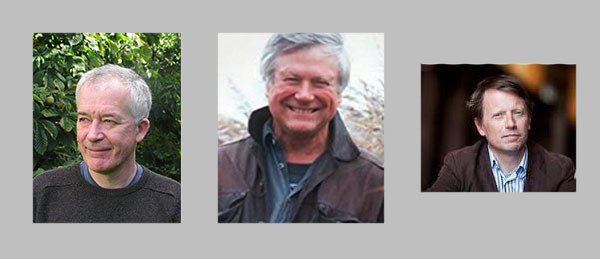 Professor Tom Williamson specialist of Landscape archaeology and in the history of landscape design, will give a walking tour of grounds design by 'Capability' Brown at 12.15pm.
D J Taylor on The New Book of Snobs
Snobbery is a vital part of the social glue that binds us all together. D. J. Taylor updates Thackeray's 1848 The Book of Snobs for the 21st Century. Prepare to meet the Political Snob, the City Snob and the Literary Snob, amongst other stiff necks of current society.
Richard Mabey on The Cabaret of Plants: Botany and the Imagination
As author of the bestselling Flora Britannica and thirty other books, Norfolk's own Mabey is one of Britain's greatest nature writers. His latest book offers an elegant and original examination of our relationship with plants, from medieval times to now.
Please click here for further information and tickets.