Cadet Training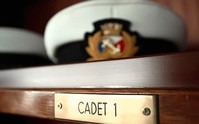 Noble Caledonia is proud to offer sea time to UK Merchant Navy Deck Officer Cadets under training in order that they may experience small passenger ship operations as part of their seagoing experience whilst under training.
Since 2013 we have offered berths to a large number of cadets through our partnership with Chiltern Maritime who manage the Trinity House and London Maritime cadetship scheme.
Deck Officers start their careers (which can ultimately lead to an appointment as a Captain) with cadetships which comprise periods of study at a nautical college interspersed with seagoing training in a wide variety of vessels. At the end of their cadetship, they undergo a series of examinations which, if passed, see them awarded with their first watchkeeping qualification. This authorises them to hold a bridge watch or cargo watch unsupervised.
Whilst on board, the cadets spend time on deck learning basic seamanship under the watchful gaze of the Bosun but also understudy the Officer of the Watch to give them valuable experience of keeping a bridge watch at sea. They also have an intense distance learning programme to follow with course work either sent home to be marked by their college lecturers or examined on board by the Captain or Chief Officer. Whilst embarked they live as Officers, in the Officers' Mess. Cadets that are appointed to Noble Caledonia vessels are, in addition to their seamanship and watchkeeping training and course work, also required to assist the expedition team with Zodiac driving (all our cadets have appropriate powerboat licences to enable them to carry passengers in our fleet of zodiacs) and to host tables in the Passenger Restaurant – all essential parts of passenger ship operation.
So if you find yourself on board one of our ships with Cadets on board, you may well find yourself being driven ashore in a Zodiac by them, talking to them on the bridge during a bridge visit, seeing them about their duties on deck or dining with them in the Restaurant – ask them about their own ambitions, aspirations and training. Their commitment and drive may just surprise you!
For further details of Cadetship schemes please contact www.chilternmaritime.com/course_completion.html